Adam Kosan
Associate Producer & Managing Editor
Adam writes grant applications, edits various projects, and conducts archival research at Poetry in America. He has an MA in English from the University of Maine, and a BA from Colgate University.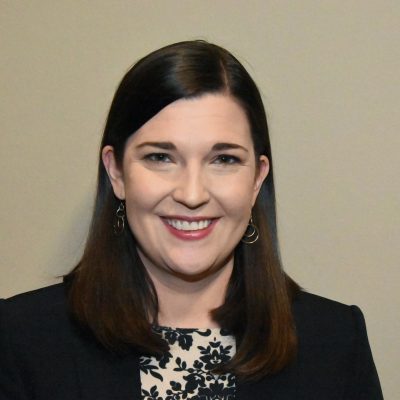 Alyssa Dawson
Teaching Assistant
Alyssa Dawson is a professional secondary teacher who is thrilled to partner with Poetry in America as a teaching assistant. She graduated from Sterling College with degrees in English and Mass Communications, and completed her master's in Literature at Kansas State University. She teaches high school courses in American Literature, British Literature, Theatre, and has taught undergraduates in Expository Writing and literature. Prior to teaching with Poetry in America, Alyssa completed all of the PiA courses for graduate credit. She has been a state Teacher of the Year semifinalist and a Yale Educator, and her professional interests include writing instruction and assessment, early American literature, and modern American drama.
Caitlin Ballotta Rajagopalan
Educational Programs, Content Development
Caitlin is the Director of Education and Strategy for Verse Video Education | Poetry in America. Having grown up watching her mother, a high school teacher, find creative ways to incorporate technology into her lessons–even in the days before computers were classroom staples–Caitlin has been a believer in technology's power to enhance learning for as long as she can remember.  Her desire to make high-quality educational materials accessible to teachers and students everywhere brought her to the Poetry in America team in 2014. Caitlin is a graduate of Harvard College, where she studied English and American literature with particular emphases on poetry and Renaissance drama.

Camille Jacobson
Teaching Assistant
Camille Jacobson is an MFA candidate in fiction at Columbia University. She received her BA from Harvard University in 2018, where her research interests focused on twentieth-century poetry and culminated in a thesis that considered the poetry of Elizabeth Bishop and the semiotics of nostalgia as elaborated by the theorist Svetlana Boym. Her fiction and criticism have appeared in Catapult, Ploughshares, The Missouri Review, The Atticus Review, and elsewhere.
Cathleen O'Connell
Producer, Television Series
Cathleen O'Connell is a documentary producer whose broadcast credits include non-fiction programming for PBS, Animal Planet, The History Channel and Discovery Channel. Her independent films shine a light on lesser known but important facets of American culture — stories found when you exit the interstate and pull onto the blue highways and back roads. She credits Nancy Drew for her plucky tenacity and unapologetic curiosity.
Donald (Field) Brown
Teaching Assistant
Donald (Field) Brown is a PhD student at Harvard University. He graduated from Mississippi State (B.A., 2014) with degrees in English and Philosophy, and went to get a masters from the University of Oxford (2016) as a Rhodes Scholar. His research considers how the history of contemporary African American literature has been shaped by the Cold War. His publications include reviews and scholarly essays; scholarship on Richard Wright, Ralph Ellison, James Baldwin, and Ta-Nehisi Coates; and nonfiction essays on Mississippi politics, the state of public libraries, and the American expatriate experience in Paris. The first poem Field memorized was "Nothing Gold Can Stay" by Robert Frost–and he can still quote it from memory to this day! Field loves teaching poetry and is looking forward to working with you all this semester.
Elisa New is the Director and Host of Poetry in America, director of Verse Video Education, and Powell M. Cabot Professor of American Literature at Harvard University, where she teaches American literature from the Puritans through the present. New created Poetry in America, a PBS series, to bring poetry into living rooms and onto screens of all kinds. The show can be seen on public television and streaming platforms, in schools and libraries, and on airlines. Guests include Joe Biden, Herbie Hancock, Gloria Estefan, Shaquille O'Neal, Elena Kagan, Nas, John McCain, Sonia Sanchez, Tony Kushner, Bill Clinton, Julia Alvarez, Bono, Cynthia Nixon, John Kerry, LisaGay Hamilton, Caroline Kennedy, Katie Couric, Al Gore, and Bill T. Jones. Along with the series, New produces educational materials on American poetry for all ages—from middle- and high-school students, to K-12 teachers, to lifelong learners—distributed by Harvard University, Amplify Education, and Arizona State University.
New is the author of The Regenerate Lyric: Theology and Innovation in American Poetry (Cambridge University Press, 1992); The Line's Eye: Poetic Experience, American Sight (Harvard University Press, 1999); Jacob's Cane: A Jewish Family's Journey from the Four Lands of Lithuania to the Ports of London and Baltimore: A Memoir in Five Generations (Basic Books, 2009); and New England Beyond Criticism: In Defense of America's First Literature, A Wiley Blackwell Manifesto (Wiley Blackwell 2014).
Faith Padgett
Teaching Assistant
Raised in Texas, Faith Henley Padgett is a poet and maker. This fall will be her fifth year working with Poetry in America. She recently co-directed the 2021 Sarah Lawrence Poetry Festival, and has an extensive background teaching all ages. Her poems have appeared in Hanging Loose, Permafrost, and Red Cedar Review, among others, and and she has been a contributor to the Southwest Review, Spry, and Penn Apetit. After earning her MFA from Sarah Lawrence and BA from the University of Pennsylvania, Faith relocated to New Mexico, where she can often be found backpacking the mountains, star-gazing, and learning new bird species.
Fatima (she/her/hers) is Poetry in America's Archival & Licensing intern for Summer 2021, digging through image archives and pulling out fascinating images to use on the show. She is a rising senior at Harvard studying History and Literature with a special focus on imperialism and colonialism in South Asia. In her free time, Fatima likes to read, paint, and play tennis.